Steve Sir named one of the century's best college basketball 3-point shooters
---
---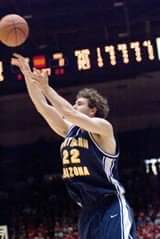 ---
Steph Curry. Jason Kapono. J.J. Reddick.
The record holder for most three-pointers in an NBA season. A two-time NBA Three Point Shootout champion. The NBA's most accurate three-point shooter in the 2015-16 season. Combined, they have made well over 4,000 NBA three-pointers … and counting.
And all three of them rank behind Alberta Basketball's Steve Sir on NCAA.com's recently released list of the Best 3-point shooting college basketball players this century.
Steve, who played NCAA hoops at San Diego State and Northern Arizona from 2002 to 2007, ranks No. 4, ahead of such luminaries as two-time NBA MVP Curry (15th), a surefire hall of famer, former NBA champ Kapono (13th), who is the only Toronto Raptors player to win the NBA Shootout, and Reddick (10th), the top outside shooter on the Philadelphia 76ers who is currently on pace to make 200 three-pointers for a fourth time in five seasons.
"To see my name as one of the top 3-point shooters of this century is very exciting," says Steve, who grew up in Edmonton and attended Ross Sheppard high school.
To qualify for the list, players must have played this century, ranked in the top 250 for both 3-pointers made and 3-point percentage, and made a minimum of 200 3-pointers. Rankings were then based on an equation that compares each player's performance in made shots and percentage to the full range of performances in both categories among the list.
Over 111 games at San Diego State and Northern Arizona, Steve connected on 323 of his 689 attempts from beyond the arc for a .469 percentage. That astonishing rate of accuracy makes Steve the NCAA Division 1 all-time career leader for highest three-point field-goal percentage among players who made at least 300 treys, a distinction he has now held for nearly a dozen years.
From a young age, Steve worked tirelessly and meticulously on his shot. Steve recently shared some fascinating insight into how he developed his shooting ability on the Jason Gregor Show on TSN 1260 radio.
Steve's shooting skills were on display in high school where his teams won back-to-back Alberta 4A basketball championships at Ross Sheppard in 1999 and 2000. He attended Grade 12 in Minnesota, and set the state high school record for 3-pointers in a season with 157, smashing the previous mark of 104.
"I was extremely fortunate to have great coaches growing up," Steve says. "They asked for consistency, effort and proper habits because they knew that's what would be demanded at higher levels."
In 2005-06, his junior year at NAU, Steve led the NCAA in three-point percentage, registering a remarkable .489% after connecting on 93 of 190 attempts. The following year, Steve was first in the nation with 4.1 triples per game, making 124 in 30 contests.
"I've played with great teammates who screened for me and found me when I could shake loose from defenders," says Steve, who participated in the 2007 ESPN and NCAA 3-Point College Championship.
Steve went on to play professionally around the world, proving an unstoppable perimeter shooting threat at every stop; In 2012-13, while playing for Municipal Bucharest in Romania, Steve became the only professional player in Europe to lead a first division league in both three-point percentage (.481%) and three-pointers made per game (2.8) in the same season. In 2016, Steve played for the Milwaukee Bucks NBA Summer League team.
Today, Steve is one of the stars on the FIBA 3x3 World Tour, and a member of Canada's 3x3 national team. He is regarded by many as the best outside shooter in the three-on-three discipline, having won the 2017 FIBA 3x3 Masters Final Shootout championship, as well as several other Shootout competitions at FIBA 3x3 Master and Challenger events.
The latest recognition, from the NCAA, has been overwhelming for Steve, who has spent time reflecting on his motivational basketball journey.
"My dream and goal growing up was to play Division 1 basketball in the US," he says. "To see years of hard work and persistence manifest into being recognized as one of college basketball's best all time shooters is extremely special."
The Steve Sir Shooting Clinic will take place again this holiday season. Don't miss your opportunity to learn from Steve and a number of great instructors. Further details and registration will be available soon.