Four Alberta Basketball athletes selected to BioSteel All-Canadian Game
---
---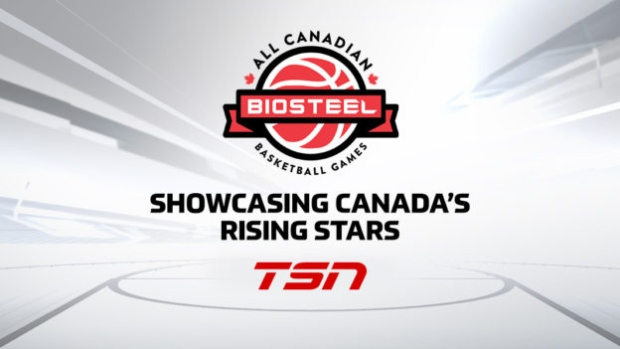 ---
Team Alberta alumni Yvonne Ejim, Ben Krikke, and Brynn Masikewich have been selected to the BioSteel All-Canadian Basketball games at the University of Toronto's Goldring Centre for High Performance Sport on Sunday, March 31.
Edmonton's Krikke will compete in the fifth annual men's game, which viewers can catch live on TSN and TSN Direct and streamed on TSN.ca at 5:30pm Mountain Time.
Ejim and Masikewich, both of Calgary, are participating in the first ever women's game, which can be seen live on TSN Direct and the TSN app and streamed on TSN.ca at 1:00pm Mountain Time.
Each game features 24 of the top high school players from across the country.
"Congratulations to the four Alberta athletes selected to the BioSteel All Star Games," says Alberta Basketball Association executive director Paul Sir. "All are deserving players who have worked extremely hard to get to this level. ABA is pleased to have been part of their development and wish them great success in the games and in their promising futures."
Previous Alberta Basketball alumni that have participated in the BioSteel All-Canadian Game are Awak Piom (2015), Aher Uguak (2016) and Adong Makuoi (2018).
Visit www.biosteelallcanadian.com for more information on BioSteel All-Canadian.
YVONNE EJIM

Hometown: Calgary

Grad class: 2020

High school: Bishop Carol (Calgary)

University commitment: TBA

Team Alberta experience

2016 15U National Championships (2nd team All-Star)

2017 Canada Summer Games

2018 17U National Championships (2nd team All-Star)

Team Canada experience:

2017 FIBA U16 Americas Championship (silver medal)

2018 FIBA U17 World Cup

BEN KRIKKE

Hometown: Edmonton

Grad class: 2020

High school: Jasper Place (Edmonton)

University commitment: TBA

Team Alberta experience

2015 15U National Championships

2016 15U National Championships (2nd team All-Star)

2017 Canada Summer Games (silver medal)

2018 17U National Championships (2nd team All-Star)

Team Canada experience:

2017 FIBA U16 Americas Championship (silver medal)

2018 FIBA U17 World Cup

BRYNN MASIKEWICH

Hometown: Calgary

Grad class: 2019

High school: Lincoln Prep (Hamilton); previously St. Francis (Calgary)

University commitment: UCLA

Team Alberta experience

2014 15U National Championships (2nd team All-Star)

2015 15U National Championships (2nd team All-Star)

2016 17U National Championships

2017 Canada Summer Games

Team Canada experience:

2017 FIBA U16 Americas Championship (silver medal)

2018 FIBA U17 World Cup

SABRY PHILIP

Hometown: Edmonton

Grad class: 2019

High school: TRC Academy (Brantford); previously Harry Ainlay (Edmonton)

University commitment: San Diego State

Team Alberta experience

2014 15U National Championships

2015 15U National Championships

2016 17U National Championships