Team Edmonton wins its first FIBA 3x3 World Tour Masters event
---
---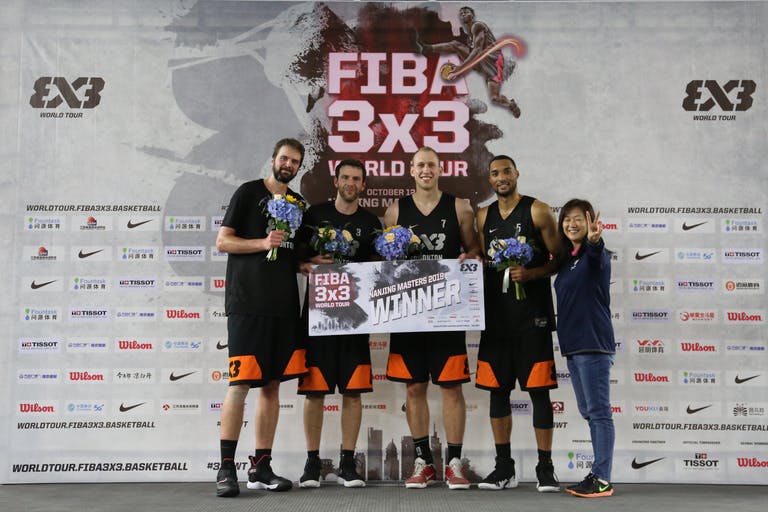 ---
Team Edmonton claimed its first title on the FIBA 3x3 World Tour this weekend, placing first at the Nanjing Masters in Nanjing, China.
Steve Sir scored a game-high seven points to propel Edmonton past Sakiai Gulbele of Lithuania 21-17 in the final. Sir, who led his team with 37 points over 5 games, was named MVP of the tournament.
The result represents a massive step for the Edmonton squad, which also won the FIBA 3x3 Fountask Nanjing Challenger, in April. Challengers are the highest level of event below the World Tour. Edmonton placed second last month at the Montreal Masters in Quebec, where they lost the 21-17 to the same Sakiai Gulbele squad.
"Team Edmonton's victory in Nanjing breaks down the door that they have been knocking on all season as they truly have demonstrated that they belong among the world's best," says Paul Sir, Alberta Basketball Association executive director.
"Their performance is a beacon for all players in our province and nation as they represent the embodiment of hard work and persistence leading to excellence in the ever-tougher FIBA 3x3 world tour."
Edmonton was represented in Nanjing by a lineup of Sir and fellow Edmontonian Jordan Baker along with Calgary natives Kyle Landry and Jordan Jensen-Whyte. All four are alumni of Alberta Basketball's provincial teams.
"'Team Alberta' would be the appropriate name with Calgary and Edmonton being equally represented," Sir adds. "This is a clear demonstration of how a united team of like-minded players can achieve great things.'
Edmonton qualified for the quarterfinals after going 1-1 in Pool B on Saturday, beating Shanghai 22-16 and losing to Liman 17-14. On Sunday, Edmonton reeled off three consecutive wins, topping NY Harlem 21-15 in the quarterfinal and Riga 21-17 in the semi-final.
With their championship performance, Edmonton secures a berth in the 2019 FIBA 3x3 World Tour Final, happening Nov. 2-3 in Utsunomiya, Japan.
For further information visit the FIBA 3x3 World Tour website.