LIKE FATHER, LIKE SON: OLYMPICS REFEREE MICHAEL WEILAND SHARES EXTRAORDINARY ACCOMPLISHMENT WITH FATHER JOHN
---
---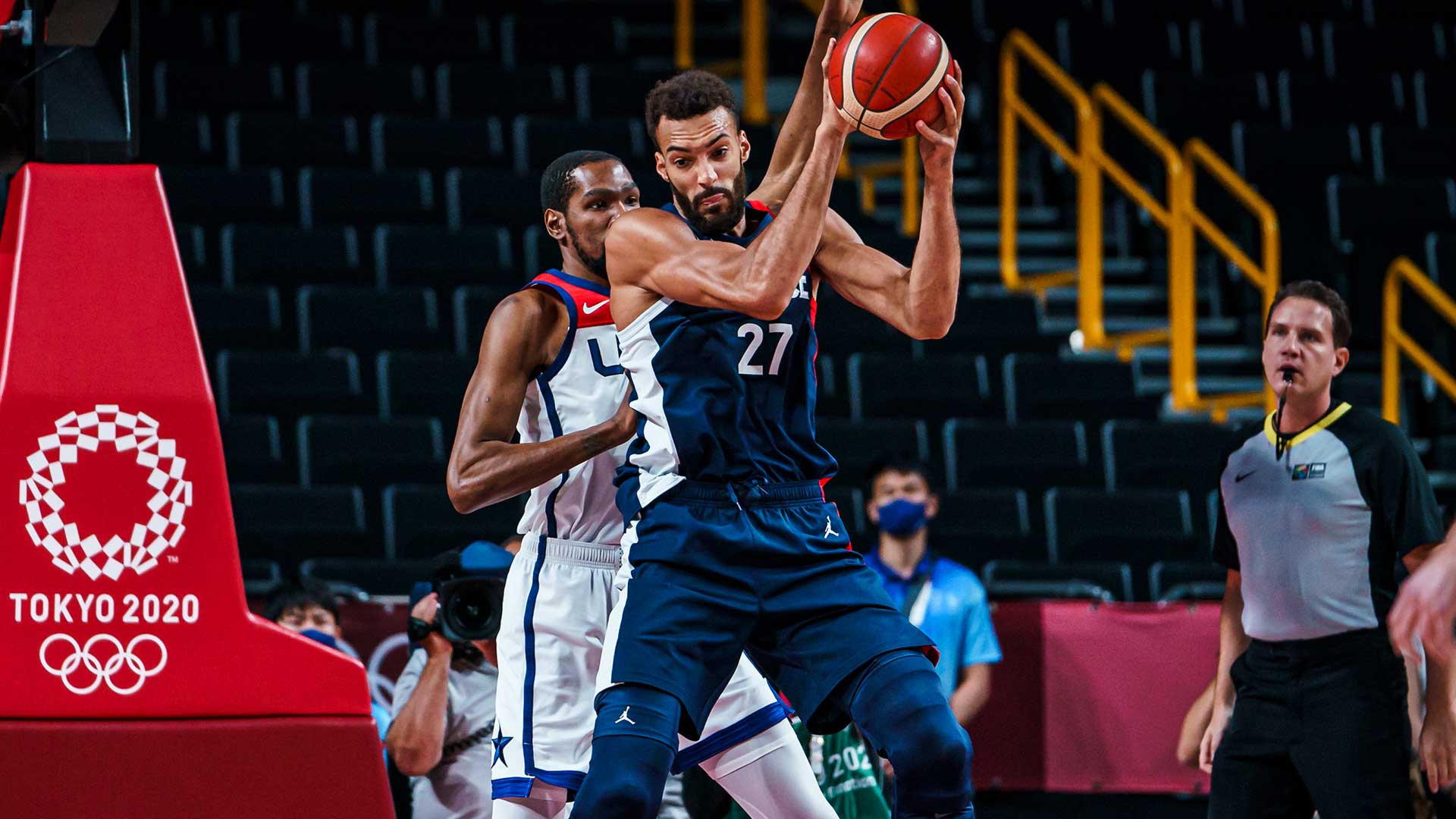 ---
When the ball went up for the USA vs France men's basketball gold medal game at the Tokyo 2020 Olympic Games, it would make sense to assume that all eyes were on Bam Adebayo and Rudy Gobert at centre court. While this was certainly the case for almost all of the audience watching from home, for John and Heather Weiland, watching live from Calgary, Alberta, Canada, the players were secondary to game official Michael Weiland, also known as their son.
Being chosen to participate in an Olympic Games is an honour for any referee. Getting the nod to officiate the gold medal game between the world's greatest athletes is like the peak of the peak of the mountain. This was an accomplishment years in the making for Michael and his colleagues. Unlike his fellow officials, the nod made Michael the second member in his family to officiate in an Olympic Games, joining his father John, who participated in the 1988 Seoul Olympic Games.
"I think it's an amazing honour," Michael said. "And it means a lot, certainly within our family and to the people, who've helped us in our careers along the way."
Though John and Heather were unable to travel to Tokyo to watch in person due to the coronavirus pandemic, they were active spectators at home, watching all of Michael's games and communicating with him afterwards.
John was named to the Canadian Basketball Hall of Fame in 2019 after an international officiating career that lasted nearly 20 years. Getting to watch Michael's career blossom is worth all of the late nights and early mornings that accompany Olympic viewings from afar. For the aforementioned gold medal game, John and Heather settled in for a night at home among friends to cheer on their son.
"It was really exciting," Heather said. "I get very nervous, which is ridiculous. It was the same when John and I first got together [and began dating]. I should know by now, both of them are pros, but I still get nervous. I almost said to John, 'Let's just let it be us watching', but we had three or four referee friends, and Michael's wife was with us, and Michael's sister and her husband. It was family and friends, all referee-friendly.
"There's nothing better for John than watching his son referee," she continued. "It doesn't matter the time or day."
John's career began almost by accident. After playing basketball throughout high school and in college at the University of Calgary, it was an argument with an official that sparked everything. When a referee called a travel and John argued with him over the call, the seeds were planted. "I kind of barked at him," John said with a laugh. "And rather than him giving me a technical foul, he said to me, 'John, if you're so good at making judgments and knowing what's going on, why don't you become a referee?' And I said, 'You know, I think I'll try that.' And I I started it and I enjoyed it. This was just what I was cut out to do."
For more than 20 years John traveled for international tournaments. After officiating the European Championships, the Pan American Games (including a 1983 final featuring Michael Jordan) and FIBA Olympic Qualifying Tournaments, getting to work the Seoul Games is still the event he is remembered for most.
After growing up watching his father's career -- "Michael was going to games when he was eight months old," Heather said -- becoming a referee came naturally to the younger Weiland. Michael caught the bug early, working as a hockey and basketball official in junior high, though basketball quickly won out due to Michael's dislike of cold hands while working in hockey arenas.
"Whether it's a genetics thing, maybe, I don't know," Michael said. "I think it's a life thing. When you're on the court and you have a moment, whether it's a call or it's before the game, or at the end of the game where you get the chill factor, you kind of get the chills."
With his father now retired, but continuing to give back to the game in Canada by mentoring and evaluating young officials, Michael is continuing the Weiland family legacy while soaking up every moment. "I've been so blessed with him as a mentor," Michael said of his father. "As someone who has guided my career, he just knows. He's been one of the best instructors that Canada has ever seen, as both the on-court official and the off-court trainer when he's been involved in camps that he's either run or I've run or that our national board has run."
Michael points to his father's personality and willingness to teach and give back as traits that have made his career so successful.
"People just gravitate towards him," Michael said. " Right now, you can walk in a gym, you can feel the energy around the referees, how they're interacting, but then he'll see a play and he'll just give you a perspective that isn't the normal perspective. Everyone can do X's and O's. That's kind of easy now. But he'll give you that extra little touch of something that is outside of the box and just fits. Having had that, it's been wonderful to help me progress, but it's also something that I can pass along."
Michael is too humble to admit that he possesses those same traits. Talking to father and son it is immediately apparent that both have a deep respect and appreciation for their profession and for the game of basketball. Both men give freely of their time when it is at the service of the profession.
"When you stand at centre court and you're waiting and listening to the crowd, the national anthems are played, it's exciting," John said. "When I say I enjoyed it, that's part of what that I enjoyed, the excitement of it. The international game, this is very much an emotional type of thing. In my days, it was very, very emotional."
The basketball court is as familiar as a second home to the Weilands. For the duration of Michael's career, John and Heather have been there, either in the stands, or watching live from home. Michael met his wife, Erica, when she was working as a referee. Every game, every call, every outcome, John has paid rapt attention, silently critiquing the action until he gets to debrief with his son afterward.
"He still gives me notes after every game," Michael said.
The pride that John has when speaking of Michael's accomplishments is matched only by the pride Heather has when speaking of John being named to the Canadian Basketball Hall of Fame in 2019. "When John was in the Hall of Fame for Canadian basketball, that was just beyond," she said. "He had no expectation that that would happen and that was just a tremendous honour. Michael getting the Olympics, well, it's pretty cool. I'm so proud of how hard he has worked and the tenacity he's shown to get there. We're pretty happy."
Heather wasn't a basketball fan when she first met John, but considers herself one now. She still doesn't understand the decision to become a sports official, a profession that is largely thankless and can often end with at least one team being upset with you.
"It's an unassuming role, but a very important one," she said. "I don't know why anybody would ever do it. I couldn't imagine doing it."
Part of what she thinks has helped John and Michael in their careers is a concrete understanding of what is important when it comes to their role on the court.
"They really don't have an ego on the floor," Heather said. "This is the game, this is the job, we're all out here to make this the best we can possibly be. I'm very proud of both of them. I love them both immensely."
Though this wasn't the traditional Olympics experience Michael was used to watching on television, it was his own. He now has another experience he gets to share with his father in their ever connected but individual career paths.
"To get that final call [to work the gold medal game], it's like I worked a long time for this and I could kind of breathe and feel good," Michael said. "As referees, we don't get that opportunity too often because we're on such an island doing a unique job and there's always the next game [to look toward].
"I got to call my parents and tell them," he said. "That was a cool experience. My mom and dad were there, my sister happened to be over just at the time. It was a nice feeling from a personal standpoint to be like, OK, you accomplished something pretty pretty cool. And most importantly, the game went really well. We didn't have any issues. And the crew, I think, for the most part, did a good job."
Beyond the Canadian players and coaches who are rising in the ranks in professional basketball, Canadian officials are also beginning to make their mark. Michael was one of three Canadian officials who worked the Tokyo Olympics. As proud as he was for his own experience, getting to share them with his fellow Canadian officials made everything even more special.
"We had three Canadian officials [which is rare to have three at an Olympic Games]. So for us to get three, my colleagues Maripier [MP] Malo and Matthew Kallio, plus we had Nadine Crowley there as an FIBA referee Instructor. It was a great time for officiating in Canada. Really, truly remarkable. Their success was as amazing as any success that I had. MP worked the women's final and Matt worked the men's bronze. Having all three of us there and all three of us work very important games throughout the tournament was pretty neat to share as well."
Though Michael knows his father's advice is always just a phone call away, he says the basketball referee community in Canada is extremely close and supportive of one another as well. "We have a really tight knit-group of referees within provinces that we work with and mentor," he said. "I think this has been part of the reason we've seen a great deal of success internationally."
One thing this out of the ordinary Olympic Games provided was an opportunity for reflection that isn't part of the day-to-day grind. For Michael, it meant thinking of everyone who had been involved in his journey.
"From a national standpoint, in terms of basketball in Canada, the people that have helped both [my dad] and I along the way, there's a lot of people who have rooted for us. I think it's an amazing honour [to share this with him]. It means a lot, certainly within our family and for the people, as I said, who've kind of helped us in our careers along the way."
Despite the distance, and the lengthy time difference, Michael knew his parents would always be watching.
"Knowing they're watching the games is pretty amazing," Michael said. "That I can provide some joy for them, because it's always hard for children to give back to their parents, having this as a conduit to make that happen is pretty special."
In the end, simply watching the games as they happened wasn't enough for John. So thrilled to see his son's biggest officiating accomplishment to date, extra viewings were deemed necessary.
"John has probably watched each of those games 10 or 15 times each," Heather said. "He is the fanatic when it comes to basketball refereeing. Michael, it's in his blood. To succeed at this level is really quite extraordinary."