ABA alum Aher Uguak is Coming Home to Join the Edmonton Stingers
---
---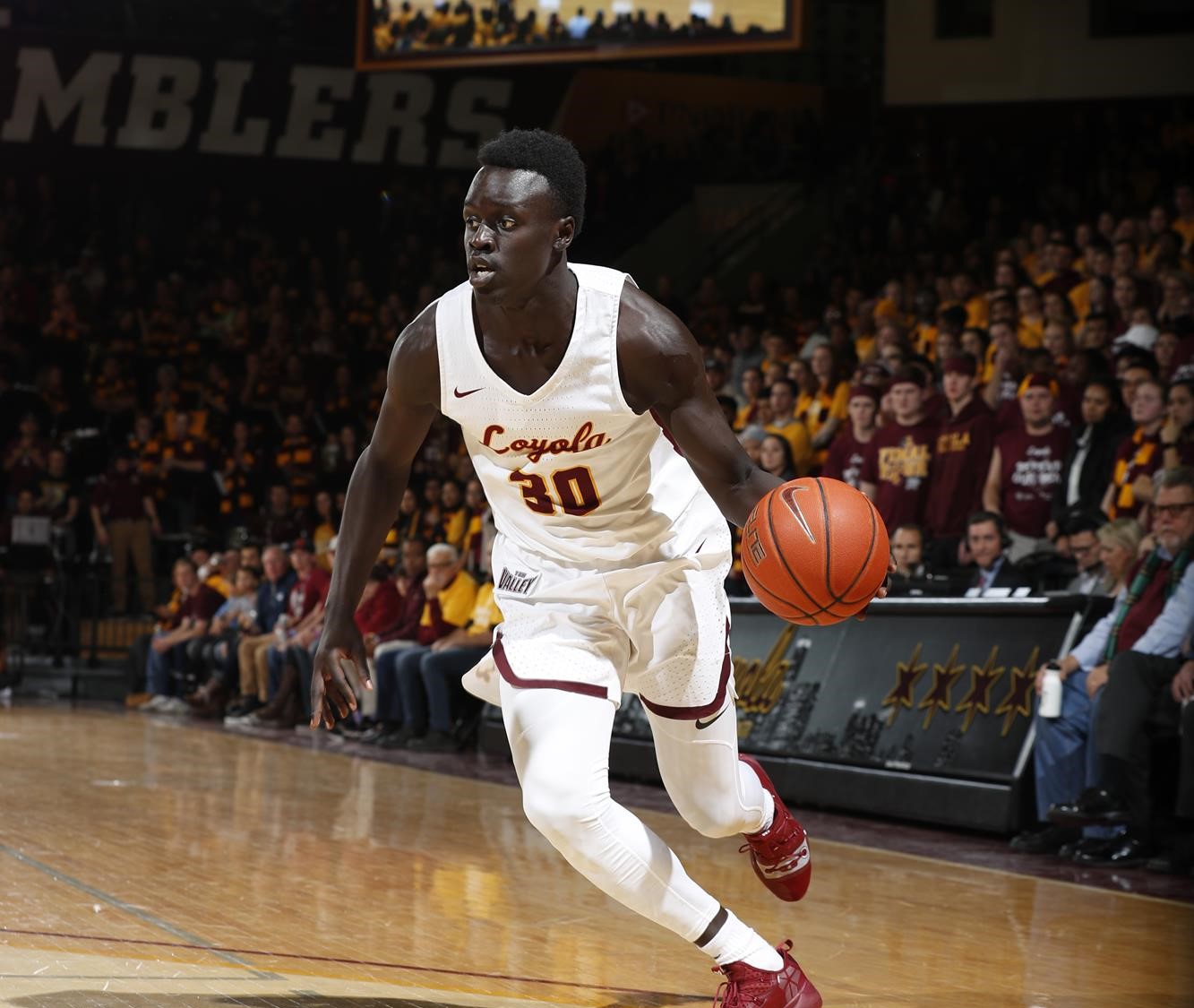 ---
Aher Uguak is coming home.
Having just wrapped up a terrific college career with the Loyola Chicago Ramblers, the ABA alum has signed with his hometown Edmonton Stingers, two-time defending champs of the Canadian Elite Basketball League.
The signing was announced on May 11. Uguak will make his professional debut in the upcoming 2022 CEBL season.
"Playing for the back-to-back CEBL champs is a great opportunity for me to start my professional career," Uguak said. "I am beyond excited to do it in my hometown. I am grateful for my time at Loyola. It was full of success and championships. I learned what it takes to win at a high level and I hope to add to the winning culture of the Stingers."
Uguak spent three years as part Alberta Basketball's provincial program, suiting up for Team Alberta 15U in 2012 and 2013, and 17U in 2014. He attended Harry Ainlay high school in Edmonton, and helped the Titans win multiple ASAA 4A championships. In his Grade 12 year Uguak was selected to the 2016 BioSteel All-Canadian Game.
'The Stinger's signing of Aher is fantastic news," says Alberta Basketball Association (ABA) Executive Director Paul Sir. "Having him come home to play after a great NCAA career is something basketball fans will celebrate.
"The Alberta Basketball Association is proud to have been one of the organizations that had the privilege to work with Aher in his development. This is what the CEBL offers - a chance for Canadian talent to come home to play."
The 6-foot-7 Uguak was a two-time Missouri Valley Conference All-Defensive Team selection and in 2020-21 earned Third Team All-MVC accolades. Over four seasons with the Ramblers, Uguak contributed 6.9 points, 3.9 rebounds and 1.4 assists per contest, while connecting on 53.2 percent (316-for-594) of his field goal attempts, giving him the ninth highest field goal percentage in Ramblers history.
This past season, Uguak averaged 8.9 points per game and 4.3 rebounds per game, both personal season highs, for a Loyola squad that won 25 games and reached the NCAA Tournament. He had a double-double with 16 points and 10 boards in the Ramblers' MVC Championship title game victory over Drake.
During the 2020-21 campaign, Uguak was a key contributor as Loyola reached the Sweet 16 of the NCAA Tournament, knocking off top-seeded Illinois in the second round. He was also a redshirt when Loyola advanced to the Final Four in 2018.