Team Alberta makes history with all 4 teams advancing to National Championship semi-finals
---
---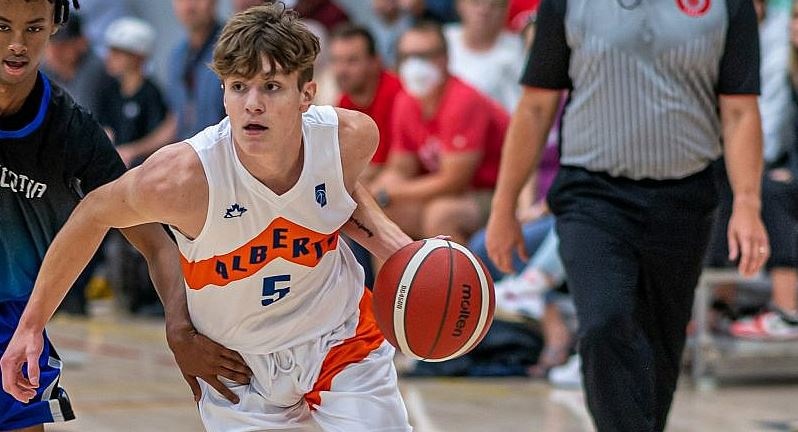 ---
For the first time since the Canada Basketball National Championships began using its current format in 2002, Alberta has advanced to the semi-finals of all four championships.
At the men's championships at the Saville Community Sports Centre in Edmonton, Alberta's 15U and 17U men's teams will take on British Columbia and Ontario, respectively, in semi-final games on Friday.
Alberta's 15U and 17U women's teams are competing at Bishop's University in Sherbrooke, Que, where they will both face Ontario in championship semi-final action Friday.
The championships wrap up Saturday with gold and bronze medal games.
MENS 15U CHAMPIONSHIPS

Aug. 1-6 at Saville Community Sports Centre in Edmonton, Alberta

MON.

Ontario 99, Alberta 57 (boxscore)

TUES.

Alberta 97, Nova Scotia, 77 (boxscore)

WEDS.

Alberta 93, Saskatchewan, 72 (boxscore)

THU.

off

FRI.

Alberta vs. B.C., 8:15 p.m. MT WATCH LIVE
MENS 17U CHAMPIONSHIPS

Aug. 1-6 at Saville Community Sports Centre in Edmonton, Alberta

MON.

Manitoba 78, Alberta 67 (boxscore)

TUES.

Alberta 87, Nova Scotia 72 (boxscore)

Alberta 86, Newfoundland & Labrador 69 (boxscore)

WEDS.

B.C. 120, Alberta 88 (boxscore)

THU.

Alberta 88, Saskatchewan 70 (boxscore)

FRI.

Alberta vs. Ontario, 3:45 p.m. MT WATCH LIVE
WOMENS 15U CHAMPIONSHIPS

Aug. 1-6 at Bishop's University in Sherbrooke, Quebec

MON.

Alberta 97, PEI 27 (boxscore)

TUES.

Alberta 58, Manitoba 51 (boxscore)

WEDS.

Alberta 68, New Brunswick 43 (boxscore)

THU.

off

FRI.

Alberta vs. Ontario, 4 p.m. MT WATCH LIVE
WOMENS 17U CHAMPIONSHIPS

Aug. 1-6 at Bishop's University in Sherbrooke, Quebec

MON.

Alberta 65, B.C. 56 (boxscore)

TUES.

Alberta 72, Saskatchewan 32 (boxscore)

WEDS.

Alberta 57, Quebec 51 (boxscore)

THU.

off

FRI.

Alberta vs. Ontario, 6 p.m. MT WATCH LIVE