Two elite FIBA 3x3 events coming to Edmonton this September
---
---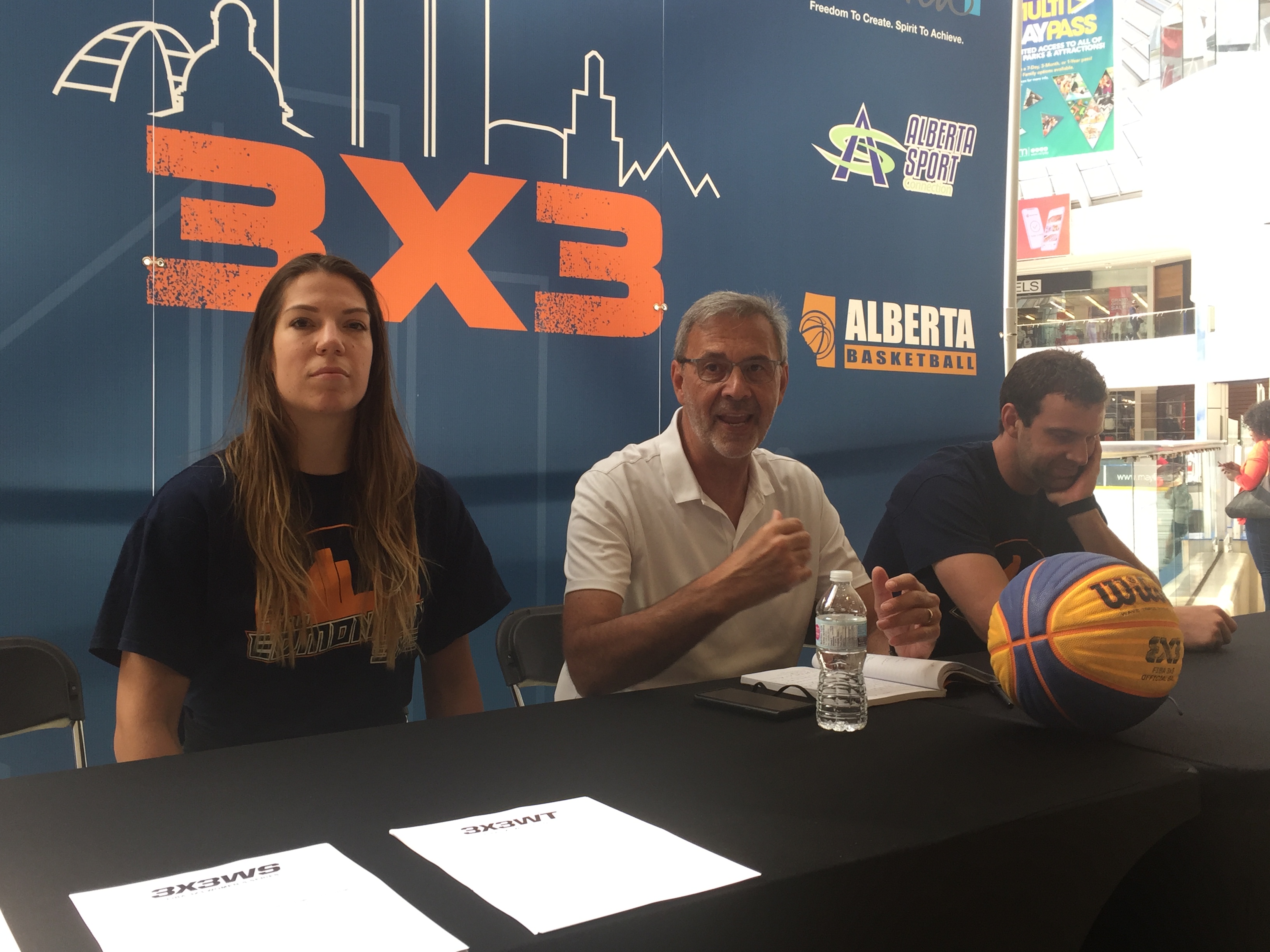 ---
The Alberta Basketball Association (ABA) is bringing two world class FIBA 3x3 tournaments to West Edmonton Mall's Ice Palace next month.
The FIBA 3x3 Women's Series will be making its Western Canadian debut on September 21 and 22, followed on September 28 and 29 with the second annual FIBA 3x3 Edmonton Challenger, the only event of its kind in Canada.
"Edmonton has staked its claim as one of the premier 3x3 cities in the world through our actions," ABA executive director Paul Sir says. "Hosting two separate events for women and men demonstrates the commitment we have towards a sport that has broken into the Olympics. We lead by action and example.
"It is ABA's goal to offer two weekends that invites and involves the community as well as showcasing the finest 3x3 talent in the world."
Both events will feature the athletes of Team Edmonton 3x3, who continue their quest towards qualifying for the 2020 Summer Games in Tokyo, where 3x3 will make its Olympic debut.
"Team Edmonton is comprised of men and women who have committed themselves to battle for a spot in the Olympics in 2020," says Paul Sir, president of Team Edmonton 3x3.
"They are the embodiment of the Olympic dream by committing themselves through their hard work and spending their own money to try to find a way to wear the red and white for Canada."
The hometown duo of Katherine and Michelle Plouffe will lead Team Edmonton as it represents Canada during the Women's Series, which will be making the final stop of its inaugural year. Currently, Canada has won back-to-back Series events, in Prague and Bucharest, to surge to No. 2 in the overall standings.
On the heels of a wildly successful debut last September, the Challenger returns to the Ice Palace, where Team Edmonton will take on the likes of defending champion NY Harlem with an automatic berth in the upcoming FIBA 3x3 Nanjing Masters up for grabs.
Team Edmonton, with a lineup that includes local products Jordan Baker, Jermaine Bucknor, and Steve Sir. is presently ranked No. 7 on the World Tour standings and has finished first once along with three second-place showings at Challenger events thus far in 2019.
September 21 and 22 will also feature a FIBA 3x3 Satellite event, which will see 12 teams from across Canada compete to get a spot in the Jeju Challenger, taking place Oct. 5-6 in South Korea.
Steve Sir will try to repeat as champion of the Edmonton Challenger shootout competition, which begins with the opening round on September 28 followed by the finals on September 29. Additionally, Edmonton will be hosting the first shootout competition on the Women's Series.
The FIBA 3x3 Edmonton Challenger and Women's Series is being staged with the support of the City of Edmonton, Province of Alberta, and Edmonton Events, and will include a grassroots component.
"The City of Edmonton, Edmonton Events and the Province of Alberta understand that 3x3's reach goes way beyond the Olympics," Paul Sir says. "This game goes right to the heart of the Live Active Strategy in providing more accessible opportunities for all citizens to participate, have fun and improve their mental and physical well being. It's the best of what any sport can offer."
CTV Video - https://edmonton.ctvnews.ca/olympic-implications-3x3-basketball-coming-to-edmonton-1.4559553
Global Video - https://globalnews.ca/video/5797504/3-on-3-basketball-is-a-fast-growing-sport