Plouffes lead Canada to victory at FIBA 3X3 Women's Series Final Stop in Edmonton
---
---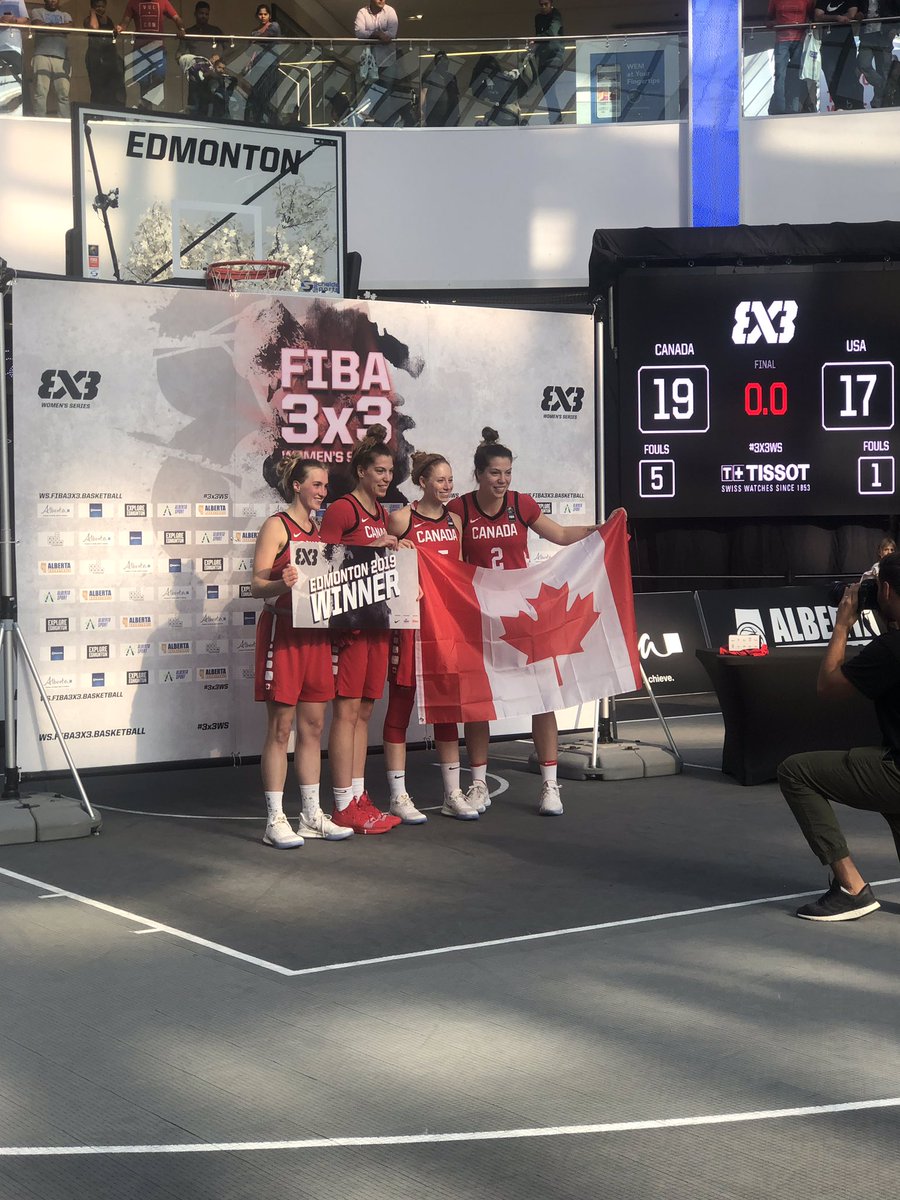 ---
With hometown heroes Katherine and Michelle Plouffe leading the way, Team Canada won the FIBA 3X3 Women's Series Final Stop Edmonton at West Edmonton Mall's Ice Palace on Sunday.
Canada defeated Team USA 19-17 in the championship game to capture the title for a record fourth consecutive event. The Canadian foursome, which also included Paige Crozon of Humboldt, Sask., and Catherine Traer of Chelsea, Que,, previously beat Italy 15-14 in the semi-final round. Team USA reached the championship game by topping Spain 21-11 in the other semi final.
Thousands of fans watched the action over two days at West Edmonton Mall's Ice Palace, as the FIBA 3X3 Women's Series made its Western Canada debut. The Czech Republic, Poland, and Spain also took part in the event, which began on Saturday. Click here for complete event results.
Edmonton was the final stop for the inaugural season of the FIBA 3X3 Women's Series. Team Canada will finish second in the overall standings, behind only France.
Elite men's 3X3 competition returns to the Ice Palace next weekend, when Edmonton hosts the FIBA 3X3 Challenger for a second consecutive year. Games will take place Sept. 28 and 29 with a 16-team field that includes Novi Sad, ranked No. 2 on the FIBA 3X3 World Tour, defending champions NY Harlem, and Team Edmonton, led by local products Steve Sir and Jordan Baker.
"Team Canada's championship is the icing on the cake of a wonderful celebration of community in our city," says Paul Sir, Alberta Basketball Association's executive director. "Edmonton is a premier host of special events and the FIBA3X3 Women's Series final stop can be added to the list. Now let's do it again next weekend."