From Edmonton to Tokyo: Senior Women's National Team is headed to the 2020 Olympics!
---
---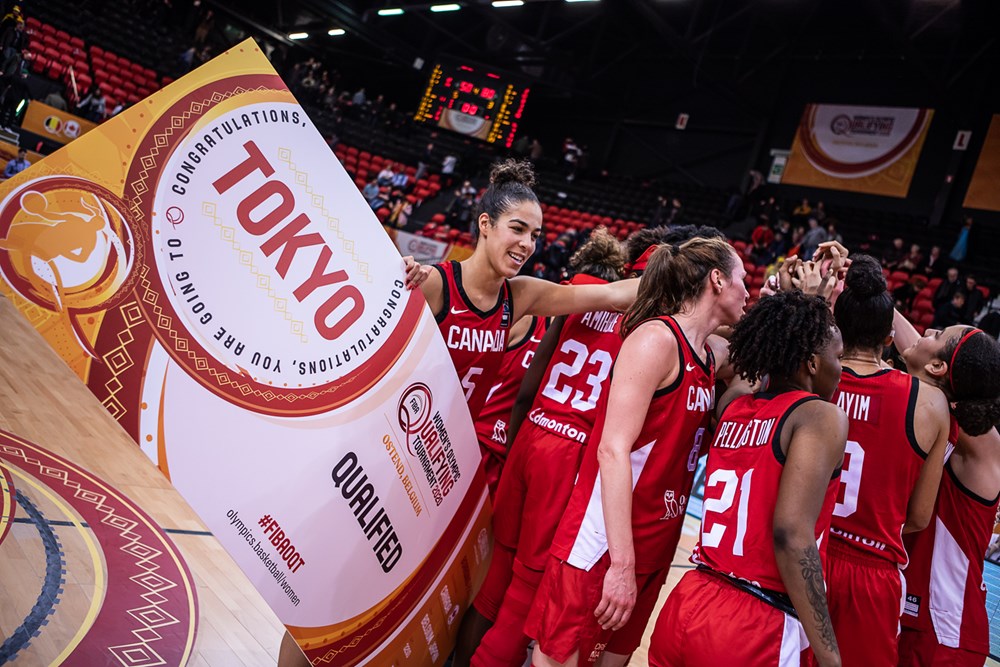 ---
It's right there on the back of their jerseys:
'Edmonton'.
And now the team that calls the Alberta capital home is headed to Japan.
Canada Basketball's Senior Women's National Team punched its ticket to the 2020 Tokyo Summer Games with a perfect record at the FIBA Women's Olympic Qualifying Tournament held in Ostend, Belgium on Feb. 6-9.
Canada won all three of its games to qualify in women's basketball for a third straight Olympics. Coach Lisa Thomaidis got contributions from all 12 of her players as the Senior Women's National Team reeled off victories over Belgium, Japan, and Sweden. Belgium also qualified for the Olympics, and Japan had pre-qualified as hosts.
"Congratulations to Canada's SWNT qualifying for the 2020 Tokyo Olympics," says Paul Sir, executive director of the Alberta Basketball Association. The focused work of the players, coaches and Canada Basketball's staff has paid off. The team will enter the competition as a true medal contender."
The Senior Women's National Team has made its training base in Edmonton since 2013. Over that time, the team has won gold at the FIBA Americas Championships, Pan American Games, and competed in both the Olympics and FIBA World Championships.
The City of Edmonton regularly hosts the team for training camp and competition, including the 2015 FIBA Americas Women's Championship at the Saville Community Sports Centre where Team Canada qualified for the Rio 2016 Olympic Games. In November, the 2020 FIBA Women's Olympic Pre-Qualifying Tournament took place at the Edmonton Expo Centre, from which the Senior Women's National Team advanced to play in the Ostend Qualifying Tournament.
There have been three editions Edmonton Grads International Classic at the Saville Centre, which has seen Canada face high-ranked opponents in exhibition games. Team Canada boasts an overall record of 17-0 in Edmonton. Among those who have suited up for the team are local products and Team Alberta alumni Katherine and Michelle Plouffe on its rosters.
While training in Edmonton, the Senior Women's National Team also engages in community outreach. Its efforts have included school visits, youth clinics and open practices.
"The unique partnership between the City of Edmonton, Edmonton Events, the Alberta Basketball Association and the Saville Centre and Canada Basketball has resulted in this remarkable rise to the upper echelons of women's basketball," says Sir. "We wish them the very best as they now prepare for the Olympic games."
The 2020 Olympics take place in Tokyo, Japan, from July 24 to August 9. Canada has reached the quarterfinals of women's basketball at each of the last two Summer Games.