ABA Welcomes New SWNT Coaches Lapeña and Quinn
---
---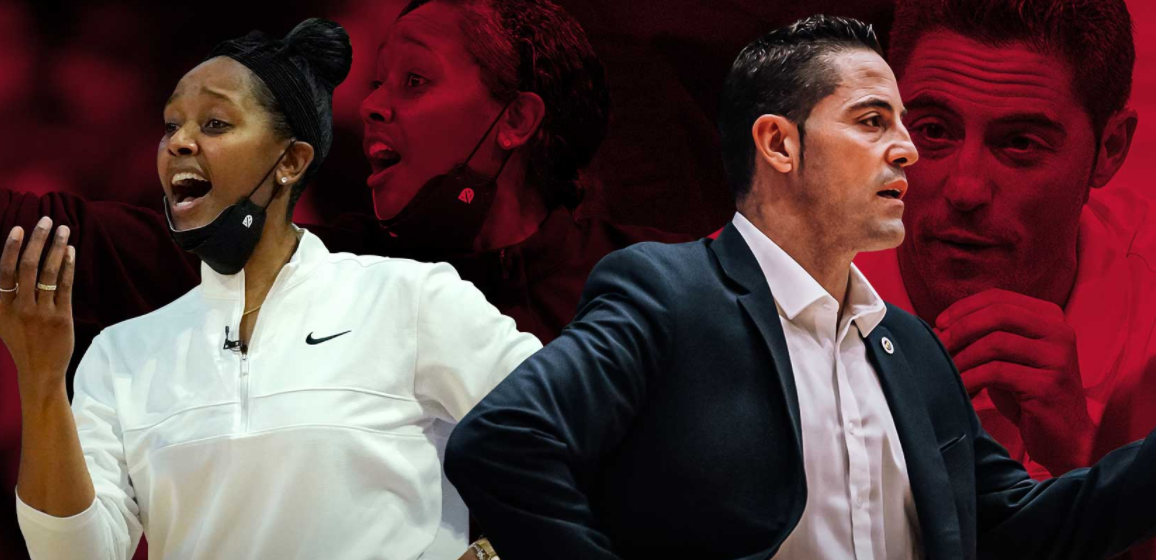 ---
Alberta Basketball Association (ABA) is excited by the recent announcement from Canada Basketball that Víctor Lapeña has been named Head Coach and Noelle Quinn has been named Lead Assistant Coach of Canada's Senior Women's National Team (SWNT) through the Paris 2024 Olympic Games.
Lapeña and Quinn will make their SWNT debut at the FIBA Women's Basketball World Cup 2022 Qualifying Tournament, which takes place next month in Osaka, Japan, where Canada will face Japan (Feb 10), Bosnia and Herzegovina (Feb 12) and Belarus (Feb 13).
The SWNT has made its home training base in Edmonton at the Saville Community Sports Centre since 2013, and has become a part of the local basketball community. During the SWNT's time in Edmonton, it has gone 17-0 as the city has hosted several international basketball events, including the 2015 FIBA America's Women's Championship, the FIBA Americas Olympic Pre-Qualifying Tournament in 2019, and the Edmonton Grads International Classic in 2014, 2016 and 2018. Additionally, ABA has worked with Canada Basketball to facilitate outreach initiatives involving the SWNT, including school visits and youth clinics.
"On behalf of ABA, I want to congratulate Victor and Noelle on their positions with the SWNT," says ABA Executive Director Paul Sir. "We will be cheering you on during World Cup qualifying and look forward to seeing you with the team in Edmonton in the near future."
A native of Zaragoza, Spain, Lapeña is currently the head coach of Fenerbahçe in the Turkish Super League. Since 2007 he has been a mainstay within the Spanish Basketball Federation, Federación Española de Baloncesto (FEB), where he has captured 14 international FIBA medals during his years with the Senior Women's National Team, as well as various age-group teams.
Internationally, as an assistant coach with Spain's Senior Women's National Team, Lapeña is an Olympic silver medalist (Rio 2016), a two-time Eurobasket champion (2013, 2017) and helped coach the team to a silver medal at the 2014 FIBA World Championship for Women. Over the course of his 14 years with Spain, Lapeña has coached in some of FIBA's largest competitions and tournaments, including the Beijing 2008 Olympic Games.
Lapeña, who has also served as head coach of Spain's women's age-group teams, also captured a pair of silver medals at the FIBA U17 Women's World Championships in 2012 and 2014. A perennial powerhouse federation in Europe, he also coached Spain to gold medals at the 2011 FIBA Europe Under-16 Championship for Women, 2013 FIBA Europe Under-18 Championship for Women and 2015 FIBA Europe Under-18 Championship for Women.
Since joining Fenerbahçe in 2019, Lapeña has led the team to the Turkish Women's Basketball Presidential Cup (2019), Turkish Women's Basketball Cup (2020) and to a club-record 15th Women's Basketball Super League title in 2021. Prior to joining Fenerbahçe, Lapeña spent a season in the Russian Premier League where he led Nadezhda Orenburg to the EuroCup Women 2019 title, their first in club history.
Lapeña has also coached more than 300 games in Liga Femenina de Baloncesto, Spain's top women's basketball league, including leading Perfumerías Avenida Baloncesto to a league title in 2012-13 and the Queen's Cup of Basketball (Copa de la Reina de Baloncesto), an annual professional club competition, the following season.
Quinn is currently Head Coach of the Seattle Storm in the WNBA. After retiring as a player in 2018, Quinn joined the Storm as an assistant coach in 2019 before becoming Associate Head Coach for the 2020 season where she helped lead the team to their fourth WNBA championship in franchise history.
As a player, Quinn was selected 4th overall in the 2007 WNBA Draft by Minnesota and appeared in 400 games over 12 seasons with the Lynx, Los Angeles Sparks, Washington Mystics, Seattle Storm and Phoenix Mercury. Quinn also is the only person in league history to win championships as a coach (Seattle 2020) and a player (Seattle 2018).
Internationally, Quinn represented Bulgaria in several FIBA competitions, including the FIBA EuroBasket Women Qualifiers 2017. She also spent 10 seasons overseas playing professionally with Spartak Vidnoe (Russia), Teo Vilnius (Lithuania), Eliztur Ramla (Israel), USO Mondeville (France), Hansae Woori Bank (South Korea), Botas (Turkey), USK Praha (Czech Republic), Artego Bydgoszcz (Poland), and Dike Napoli (Italy).