World Class 3x3 Competition Returns to Edmonton in Summer 2023
---
---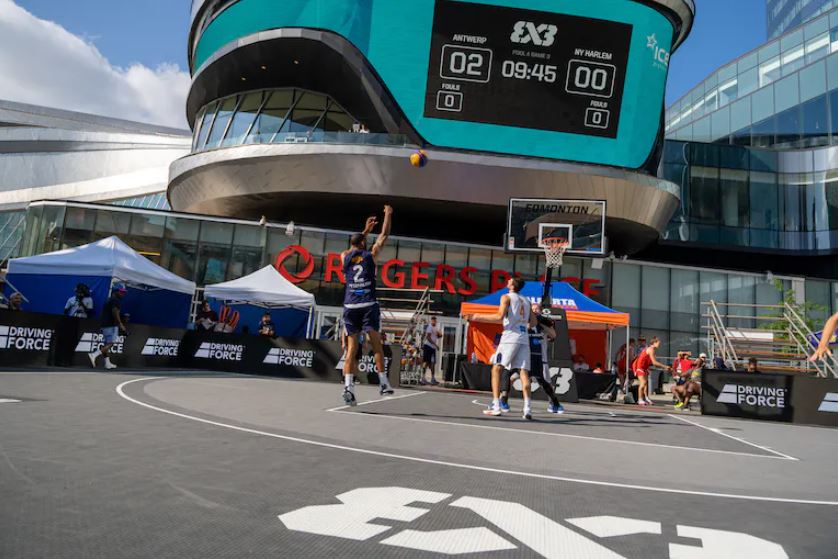 ---
Basketball's greatest 3x3 athletes return to downtown Edmonton this summer for the 2023 FIBA 3x3 World Tour and FIBA 3x3 Women's Series, July 28-30 in ICE District Plaza outside of Rogers Place.
After staging tremendously successful FIBA 3x3 Challenger events in 2018, 2019, and 2022, Edmonton has been named exclusive Canadian host of the FIBA World 3x3 Tour, the flagship competition of the FIBA 3x3 professional season, for the next three years.
Twelve of the best men's teams from around the globe will compete for valuable Olympic qualifying points for their nations when the FIBA 3x3 World Tour makes its Edmonton debut.
Meanwhile, hometown heroes Katherine Plouffe and Michelle Plouffe will lead No. 1-ranked Canada into action at the FIBA 3x3 Women's Series, which features top women's national teams also vying for Paris 2024 Olympic berths.
This will be Edmonton's third time hosting the FIBA 3x3 Women's Series, including last summer and the inaugural Women's Series Final Stop in 2019.
The prestigious 3x3 events will take place in conjunction with Taste of Edmonton, Western Canada's largest food festival and free outdoor concert series with dishes from over 50 locally owned restaurants and first-class performances at Churchill Square.
Additionally, the new ICE District Fan Park will host Alberta Basketball Association's 11th annual 3x3 Provincial Championship, the longest-running competition of kind, July 28-30.
Teams from across the province will compete in what will be the first basketball event in the multi-use space east of Rogers Place between 101 Street and 102 Street.
The FIBA 3x3 World Tour and Women's Series events are a collaborative effort of City of Edmonton, Explore Edmonton, Oilers Entertainment Group, Canada Basketball and Alberta Basketball Association to bring world class competition to the provincial capital.
Edmonton has a rich history of international basketball, serving as training home of the Canadian Senior Women's National Team since 2013. The city has recently hosted women's Olympic and men's World Cup qualifying matches.

Quotes:
"The strong partnership between the City of Edmonton, Explore Edmonton, Oilers Entertainment Group, Canada Basketball and Alberta Basketball Association make these events possible. Our goal is to build this into the most spectacular 3x3 event in Canada as we look to partner with the Taste of Edmonton in offering great entertainment to all who can join us."
- Paul Sir, Executive Director, Alberta Basketball Association
"We are so thrilled to welcome FIBA back to Edmonton. Our city has a rich history with the sport of basketball, going back to the legendary Edmonton Grads and continuing through city council's support of our partnership with Canada Basketball and Alberta Basketball. Hosting events of this calibre will provide Edmontonians not only with an opportunity to see the best in the world compete, but with unique opportunities to interact with and learn from these incredible athletes and coaches."
- Karen Principe, City Councillor, Edmonton
'Edmonton is a long-standing partner of Canada Basketball and the city has regularly hosted important international competitions, giving our teams an important home court advantage. With such a passionate basketball fan-base, our athletes, coaches and staff are always welcomed and supported as our teams work to reach podiums and qualify for the next international competition. The City of Edmonton and Explore Edmonton are ideal hosting partners for FIBA, especially with the roots of our National 3x3 Program running so deep through the province."
- Michael Bartlett, President and CEO, Canada Basketball
"We are excited to host the FIBA 3x3 World Tour, Women's Series and the 3x3 Provincial Championships in Canada's largest sports and entertainment district. Daryl Katz's vision was to build world-class event spaces downtown where Edmontonians could gather and cheer on the best athletes and performers. We look forward to welcoming fans down to ICE District Plaza and Fan Park at ICE District this summer for some of the best basketball in the world."
- Stuart Ballantyne, President and COO, Rogers Place and ICE District
"Explore Edmonton is thrilled to provide an exciting sports event for Edmontonians and visitors. And while we're having fun, there will be eyes on our city on television broadcasts across Canada, Europe and South America providing great promotion for our city and specifically downtown at ICE District. Adding to that we project the event to produce a total economic impact of $3.8 million."
- Traci Bednard, CEO, Explore Edmonton