Worsley Wildcats bring home gold medal from Youth Provincials
---
---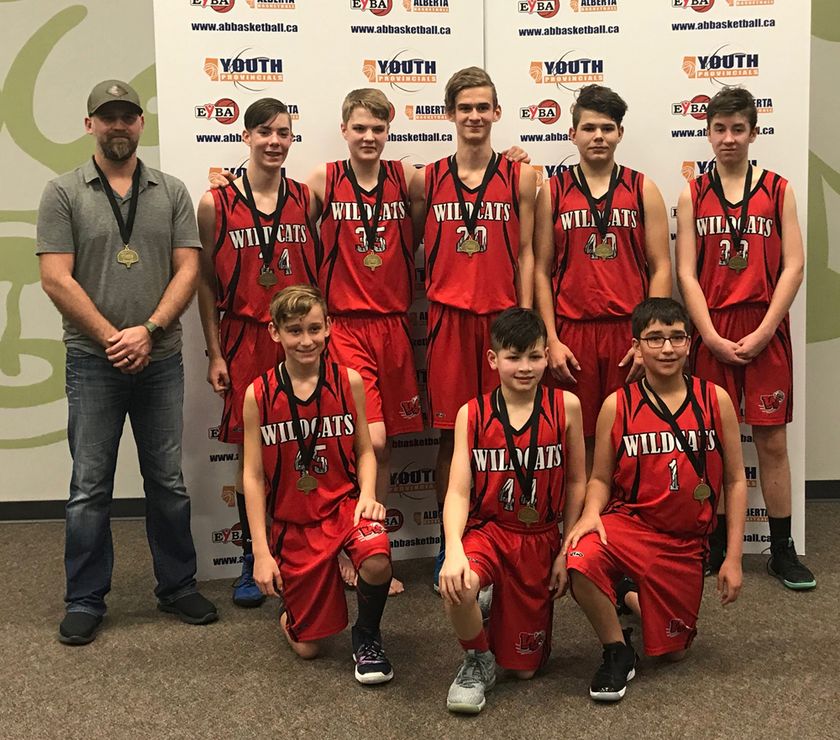 ---
From the big city teams players to youngsters not yet in their teens, there was room for everyone at the 2019 Alberta Basketball Youth Provincials, March 8 and 9 at the Saville Community Sports Centre in Edmonton.
Just like the Worsley Wildcats, who came from one of the tiniest locales and played with an awful lot of heart.
"Coming from a small school (making it a small team) allows the boys learn how to play well together as a team," says Wildcats coach Justin Wasylciw. "They basically grew up playing together. They realized that they had to play every minute of every game as a team, and they left it all on the court."
The Wildcats won the Boys U15 C/D Division, defeating the Calgary Running Rebels 57-53 in a fantastic gold medal game.
"I believe that coming from a small community, the boys learned early on the strengths and weaknesses of each of their teammates," says their proud coach. "They each know the role that they need to play, to compete on the court and to be successful as a complete team."
Worsley is a hamlet in Northern Alberta with a population of approximately 130. The Wildcats represent Worsley Central School in varsity hoops.
"Our Worsley junior boys team had a great season playing basketball.," says Wasylciw. "When I got the email about (Youth Provincials), I decided it would be awesome to give the boys one more chance to play their hardest and possibly bring home another medal to our small community. I wasn't sure how it would turn out, but I knew that they had great potential!
Youth Provincials featured 200 total games in an action-packed 36-hour span. The Wildcats were one of 120 boys and girls teams - including from as far away as the Northwest Territories - that came together in Edmonton for "Alberta Madness".
"The best part of the Youth Provincials experience was seeing the camaraderie between all of the players," Wasylciw says. "Athletes seem to have a special bond and are usually quite like-minded. Having our boys catch up with old friends and teammates from other teams is always nice to see."
Please visit https://admin.tourneymachine.com/Public/Results/Tournament.aspx?IDTournament=h20181218193149844d2e6e9cada3d45 to view results from all divisions at Youth Provincials 2019.